BY JIM BISSETT
Courtesy of The Dominion Post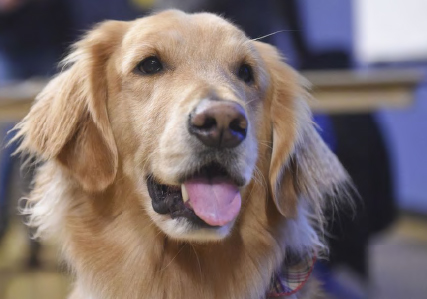 OK, so Jim Brennan didn't necessarily look nervous when he positioned himself in front of that classroom in WVU's Robert C. Byrd Health Sciences Center, on Friday afternoon. But Stryker knows how deep those waters can go. That's why the 4-year-old golden retriever took up a position of his own. He rested his head and snout on the top of Brennan's foot and draped a paw over his leg. It looked like a classic study of lazy, canine repose. Except, it wasn't.
That's because Stryker was working the whole time. "See, that's what he does," Brennan said. "He knows that I'm a little bit nervous right now. What he's doing, is calming me down." Which is precisely what the pup was trained for by WVU. Four-legged alum Stryker is a product of the Hearts of Gold service dog training program, which is part of the Davis College of Agriculture, Natural Resources and Design. Now 54, Brennan had decades of emotional turmoil before the dog came along.
He enlisted in the U.S. Air Force right after he graduated high school in his native Princeton. Brennan never saw combat, but he was in several stressful deployments. He lost his best friend in Somalia, and was part of units that had to clean up after deadly plane crashes—often knowing that other buddies had been on board. The airman was also part of an elite honor guard that presided over countless military funerals. And while he was proud to pay his respects in that formal, regimented way, to carry out such duties also meant standing at attention in death's shadow.
The Grave's Disease didn't help. He had been in the service for about two years when he was diagnosed with the immune system disorder that happens when the body overproduces thyroid hormones —which, in turn, doesn't just cause physical maladies. Brennan's emotions were also raging, as a result of the hormone overload. He was easily startled. He fainted, on more than one occasion. He was prone to valleys of depression and peaks of risky behavior. The once easy-going West Virginian was transformed to a fly-off-the-handle guy, ready to rage at a moment's notice. "I embarrassed a lot of people, " he said. "I embarrassed myself." The military doctors finally diagnosed him with post-traumatic stress disorder—on top of the Grave's Disease—but their prescriptions of powerful anti-depressants and other mood-altering medications only made his medical condition worse, he said. He was spiraling down like a Marcellus shale drill bit, he said, when he learned about Hearts of Gold. Brennan applied for the program, took classes on campus as all applicants are required to do, then found himself paired up with Stryker. "That's when I took my last Valium," he said.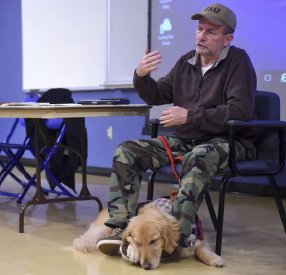 Doggie on the job
Stryker, he said, is dialed in to his psyche. If he catches himself getting agitated or uncomfortable in public, the pooch mobilizes. "When I get that way, I start talking fast and my voice gets loud. My arms start going everywhere. Stryker'll tap me with his nose, or he'll do what he's doing now. He keeps me grounded." That's why he and Stryker were on campus Friday. They were there to simply show how it worked. "They're a success story, "said Jean Meade, a Davis College professor and proponent of service dogs who co-founded the Human-Animal Bond, a nonprofit group that works closely with Hearts of Gold. Inmates at Morgantown's Robert F. Kennedy Federal Correction Institution train the dogs for Hearts of Gold, along with students enrolled in WVU's pre-veterinary program. A lot of it, Meade said, entails simply listening—even if it's a business of getting sometimes rambunctious puppies to respond to commands. Brennan said his doctors never really listened to him, and Meade made that a cautionary tale for the handful of mostly medical students who came out on the rainy afternoon for the program. "You need to really, really communicate with your patients,"she said. "You have to listen to what they're really saying."
Stryker's students
Danielle Sandy was doing a lot of listening. She's a 21-year-old WVU psychology major who diagnosed with Grave's Disease as a teenager. Once a star gymnast, she couldn't walk down a hallway without feeling winded. Crying jags were a regular occurrence, she said. "I was lucky, though," said Sandy, who came out for the program and will eventually train a service dog through Hearts of Gold. "My parents and my doctors were really on top of it, once we got it figured out." Sandy plans on studying social work in graduate school at WVU. Then, she'll return to her native Parkersburg and incorporate service dogs as part of her field work. "I can't think of a better way to help people," she said.
Up in the front of the classroom, Stryker gave a tail-wag and saluted Brennan with his snout while the man nuzzled his ears. "I mean, look where I am," Brennan said, smiling down at his best friend. "I'm at West Virginia University, talking to y'all. Before, I was hiding behind the shades in my house."