The Human-Animal Bond is the product of the hard work of dedicated staff and volunteers.
---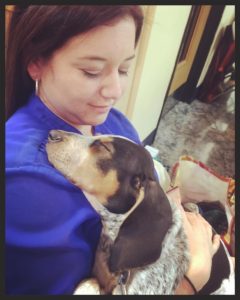 LINDSAY PARENTI
Lindsay Parenti, M.A., ACABC, Hearts of Gold Director of Program Development
Lindsay has been training dogs for nearly 10 years. She earned her Master's degree in Applied Behavior Analysis and is currently working toward completion of a Ph.D. in Human-Animal Interactions. Her expertise in service dog training has been sought out by the National Institute for Occupational Safety and Health, where Lindsay serves as a consultant for Project ROVER, a research program designed to assess the service dog needs of veterans with PTSD. Lindsay developed and currently teaches two courses in West Virginia University's Animal Sciences department that teach students how to train service dogs and visitation therapy dogs. Lindsay has experience teaching puppy kindergarten and adult dog group obedience classes as well as providing private behavioral consultations to owners whose pets are experiencing a wide range of behavior problems.Lindsay is a Morgantown native and currently shares her home with her beloved Beagle mix, Merlot.
---
JEAN MEADE
B. Jean Meade, DVM, MD, MPH, PhD, Human-Animal Bond Executive Director
Jean has over 30 years of experience in veterinary medicine. She spent her academic career in the field of immuno-toxicology and is now using her combined experience in veterinary and human medicine along with her basic science background to investigate the many facets of the human-animal bond.