Service Dog Training
The Hearts of Gold program raises, trains and places dogs to assist people with disabilities. Certified Mobility Assistant dogs and Psychiatric Service Dogs can perform a number of different commands after their 2-year training, depending on the client's needs.
Although we do place dogs, the main focus of the program is research and training.
Based in Morgantown, West Virginia, Hearts of Gold and works closely with other organizations in the community. As a 501(c)(3) organization we are entirely funded through grants, foundations and private donations enabling us to place dogs based on need, rather than client income.
FOLLOW US: Facebook  |  Instagram
---
Hearts of Gold is dedicated to studying the most efficient, positive training methods of Service Dogs through valid research. The trainers have expertise in the area of behavior analysis.  As such, all training methods are grounded in empirical evidence for their effectiveness.
---
Students and Volunteer Handlers will be taught training methods as well as the principles behind the use of those methods.  In this way, the students and volunteers will develop and understanding of how to train, not just a "recipe-style" format of training.
---
Hearts of Gold raises, trains and places dogs to assist people with disabilities. Certified Mobility Assistant dogs can perform a number of different commands after their two year training, depending on the client's needs.
From time to time, Hearts of Gold has a limited numbers of dogs available for placement.
---
In the News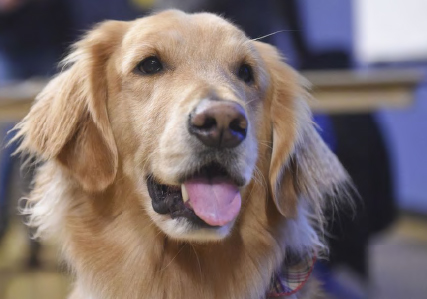 Veteran discusses Heart of Gold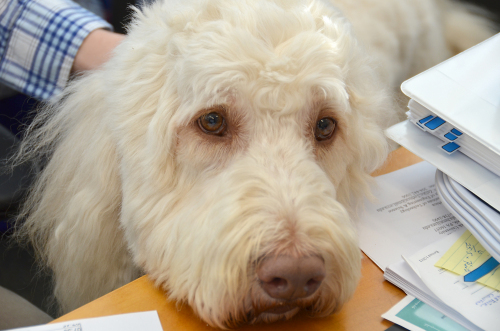 WVU freshman engineering program set to welcome therapy dog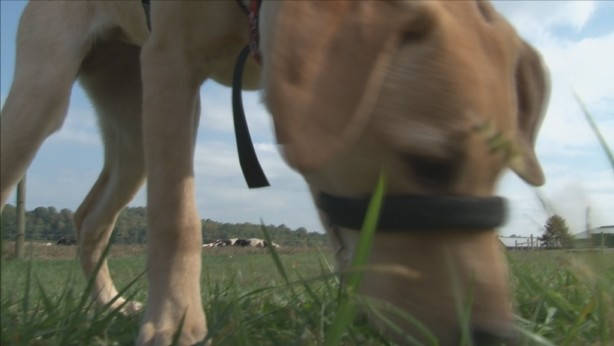 WVU Students Training Service Dogs
Therapy Dogs Take Care of People at WVU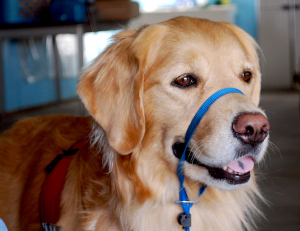 Service Dogs at the Hearts of Gold Program Make a Difference
---
How to Help
Donate an item from our Amazon wish list.
Released Dog Application
Adopt one of the program's released dogs.
Give to support Human-Animal Bond and the Hearts of Gold program. All donations are tax-deductible.
---
Meet Our Dogs
Hearts of Gold dogs are acquired through our in-house breeding program, breeder donation, shelter selection, and purchase. We have trained several breeds, including German Shepherd Dogs, Goldendoodles, Labradoodles, Pyrenees mixes, Standard Poodles, Chesapeake Bay Retrievers, and several crossbreeds.; however, Golden Retrievers and Labrador Retrievers are consistently favored in the literature for service dog work and is the breed we often choose.
Our ultimate goal is for our dogs to become certified service animals for individuals with disabilities. However, the graduation rate for service dogs is low – about 30%. If one of our dogs does not make it through the service dog training program, they will become either a therapy dog, an emotional support dog or a pet.
---
Service dogs are companions that can perform a variety of tasks for their handlers, including retrieving dropped items such as cell phones, pencils, and change; opening and closing doors; helping with balance; and "fetching" a cordless telephone to name a few. Above all else, a Service Dog provides unconditional love and acceptance, a feat that few humans can master.
[Photos coming soon]
---
Research has shown that human-animal interaction can benefit one's overall mental and physical health, reduce stress factors and improves one's overall mood. Hearts of Gold partners with West Virginia University, which is among other top universities that use therapy dogs, like Emory University, the University of California-Berkley, Columbia University and others.
---
Our dogs can perform more than 100 commands: they pick up objects and deliver them to individuals, pull open doors, push buttons and drawers, pay for items in a store, get the phone, even pull off gloves and socks. Our dogs are trained "generically" and then customized to an individual's needs. Dogs can be trained to help a walking person with their balance or brace a wheelchair-bound person when they transfer from their chair to a couch or bed. They make difficult tasks easier and impossible tasks possible.
[Photos coming soon]
---
Project R.O.V.E.R.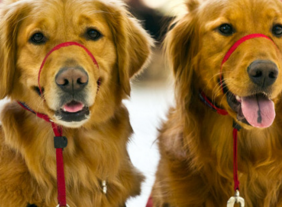 ROVER (Returning Our Veterans to Employment and Reintegration) is a collaborative program between West Virginia University (WVU) and the National Institute for Occupational Safety and Health (NIOSH) which seeks to investigate the therapeutic benefits of service dogs that are trained to provide physical and psychological assistance to Veterans with from post-traumatic stress disorder (PTSD).